SKU:SKU: 0000639
In stock
Regular price
Sale price
29,08€
Unit price
per
Sale
Sold out
Our heavy arrows, recognizable by the additional stainless steel ring, are designed for our stronger limbs from 90 lbs and more.
Technical data

Length: 16.2 cm
Width: 2 cm
Height: 0.6 cm
Arrow weight: 14,8 g / 228 grains
Dimensions: 6.2 x 162 mm
Scope of delivery

6 heavy Carbon-Bodkin Arrows
Material

High quality aluminum cam, carbon/aluminum hybrid shaft, i.e. inside the carbon shaft there is an additional aluminum shaft.
Share
View full details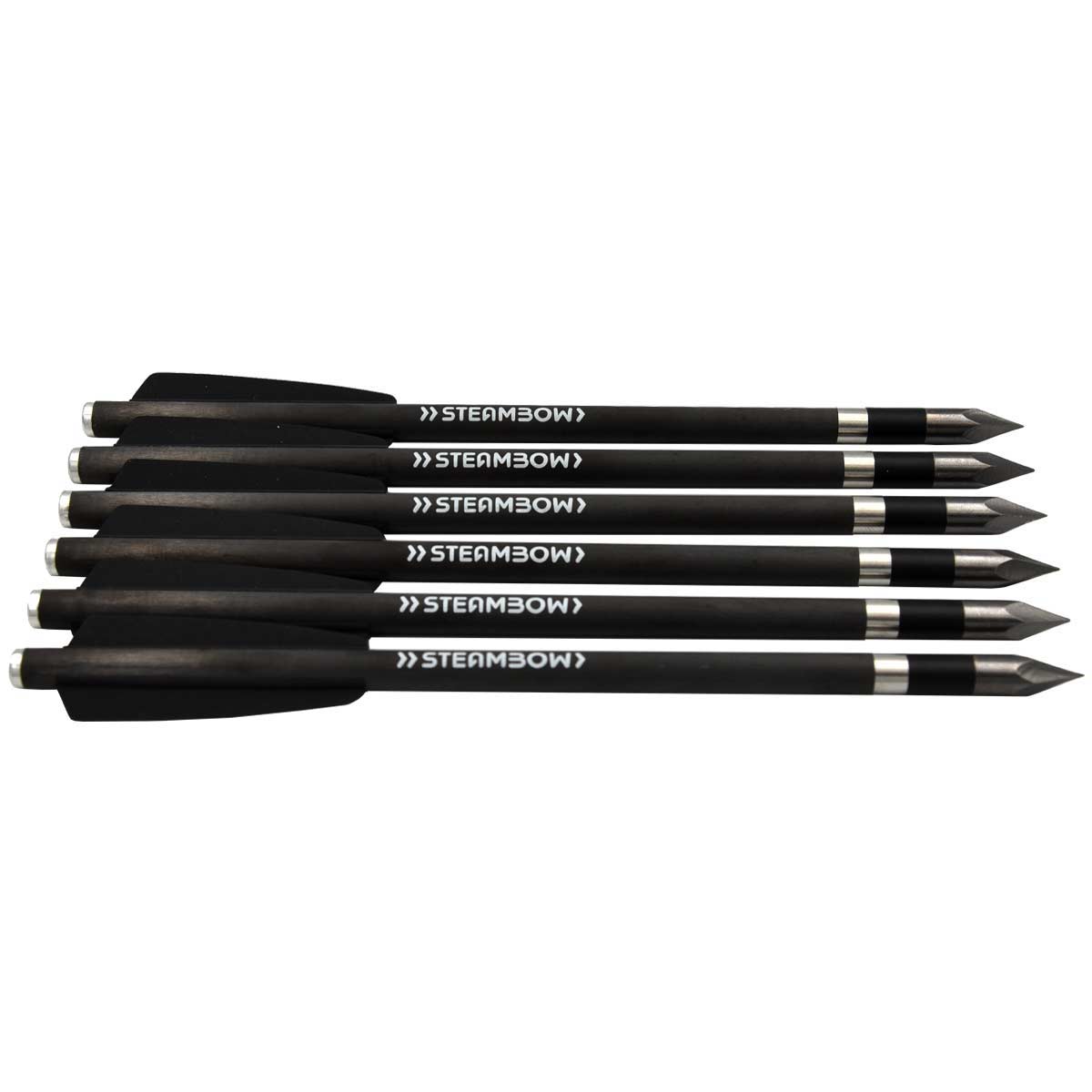 Product description
Heavy Bodkin Arrows for the AR-6 Stinger II and I

The arrows have a high-quality aluminum nock and have a carbon/aluminum hybrid shaft, i.e. inside the carbon shaft is still an additional aluminum shaft. This elaborate construction is responsible for the excellent flight characteristics and leads to extremely robust arrows.

At almost 15 grams, these arrows are significantly heavier than most pistol crossbow arrows and have a particularly high impulse when hitting the target. Hard target media such as sheet metal or glass can thus be penetrated more easily.

The Bodkin Arrows with the black coding ring have a sharp point made of hardened tool steel and are heavier than our Target Arrows. The higher weight and hardened point give these arrows considerable penetrating ability. Even though they have no blades, these arrows cause considerably more serious wounds than Target Arrows. That and the ability of these arrows to penetrate targets particularly well makes them especially dangerous. This means that extreme care must be exercised when using bodkin arrows, and better target media are needed. Note that the sharp edges on these arrow points actually cut the target medium, and that Bodkin Arrows thus wear targets out significantly faster than our Target Arrows. Because of this, we do not recommend these arrows for regular practice.

Note: Due to the sharp edges at the tip of the arrow, the target medium is literally cut, the Bodkin arrows thus cause a much higher wear of the target than sports arrows. For regular training, these arrows are therefore only conditionally recommended.

Note: Never use damaged arrows in your AR-6 Stinger. Missed shots can be triggered by this. Such "dry shots" can damage the string and throwing arm.

Caution: These arrows penetrate leather, skin, and tissue with ease, causing severely bleeding wounds, even if the tips are less sharp than the blades of our war or hunting arrows. A single hit with such an arrow can easily cause life-threatening injuries, so special care must be taken when handling these arrows.
Scope of delivery
6 heavy Carbon-Bodkin Arrows
A detailed overview of Steambow's second generation carbon arrows